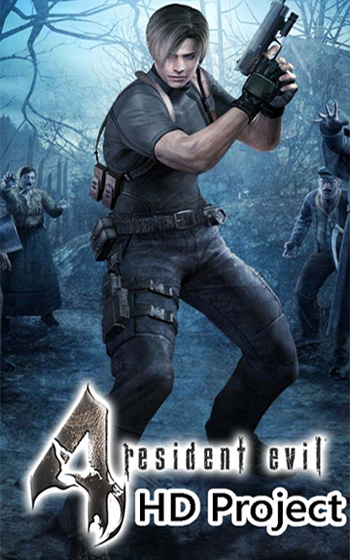 TITLE: Resident Evil 4 + HD Project v1.1
GENRE: Action, Adventure
DEVELOPER: Capcom, Albert Marin, Cris Morales
LANGUAGES: English, French, German, Italian, Spanish
RELEASE DATE: 28 Feb, 2014 / February 2, 2022
Description
In resident evil 4, special agent Leon S. Kennedy is sent on a mission to rescue the U.S. President's daughter who has been kidnapped. Finding his way to a rural village in Europe, he faces new threats that are a departure from the traditional lumbering zombie enemies of the earlier instalments in the series. Leon battles horrific new creatures infested by a new threat called Las Plagas and faces off against an aggressive group of enemies including mind-controlled villagers that are tied to Los Illuminados, the mysterious cult which is behind the abduction.
Resident Evil 4 HD project v1.1
– This is not a remake, it's a remaster created by fans, for fans.
– The "resident evil 4 HD project" is a complete graphical remaster of the entire game. It includes enhanced textures, 3D models, menus, cutscenes, prerendered videos, lighting, visual effects, and more.
– The HD project also fixes certain sound bugs and broken / missing effects, which arose mainly as a consequence of the many times the game has been ported through the years.
– The HD project is compatible with all languages, including the Japanese version. It's tested for version 1.0.6 & 1.1.0
– The HD project won't affect achievements or game saves.
How to install
1- Run the installer as administrator
2- Click on the page
3- Press the up arrow on your keyboard
4- Click Install
5- Click Continue
6- Select installation destination
7- Click Next
8- Select component
9- Install
Repack Features
Based on
– Resident Evil 4 HD project v1.1, by Albert Marin and Cris Morales
– Game executables from v1.1.0, Crack from 3DM
– Thanks to AR-81, for game files
Game version : v1.1.0
HD Project Version: v1.1
Languages :
– English, French, German, Italian, Spanish – Spain
– Language can be changed in " 3DMGAME.ini " file (Resident Evil 4 HD Project\Bin32)
Repack Size : 28.9 GB
Final Size : 38 GB
NOTHING is cut, NOTHING is recoded
Installation time : 2 – 8 mins
Credits : Razor12911 for Xtool library
Greetings : ElAmigos, KaOsKrew, FitGirl
Repack By DODI
PLZ SEED , DONT HIT & RUN
Download Links
Torrent – Click Here – or – Click Here
krakenfiles – Click Here
MegaUp – Click Here
Multi-Mirrors – Click Here
Gdrive – Click Here
OneDrive – Click Here
Please consider donating to help me maintain this site, Repack Servers  and seedboxes. Donate Here