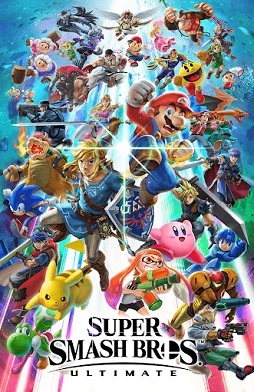 Release Year : Dec 07, 2018
Genre: Action, Fighting, Multiplayer
Developer: Nintendo / Sora Ltd. / BANDAI NAMCO Studios Inc.
Publisher: Nintendo
Platform: PC – Emulated
Image Format : XCI
Game Version : 10.1.0
Language: Japanese, English, French, German, Italian, Spanish, Korean, Dutch, Russian, Chinese
Description:
Legendary game worlds and characters will face in the greatest confrontation – a new game from the Super Smash Bros. series. for Nintendo Switch!
Gaming icons clash in the ultimate brawl you can play anytime, anywhere! Smash rivals off the stage as new characters Simon Belmont and King K. Rool join Inkling, Ridley, and every fighter in Super Smash Bros. history. Enjoy enhanced speed and combat at new stages based on the Castlevania series, Super Mario Odyssey, and more! 
update 10.0.0 note:
The Sephiroth Challenge mode event has been added for a limited time.
You can attempt this mode if you've purchased the Sephiroth Challenger Pack or the Fighters Pass Vol. 2. Defeating Sephiroth will unlock him as a playable fighter and grant access to his stage.
This mode will appear on the upper left of the main menu. Press the + Button to take on the challenge.
Once the event period is over, the mode will become unavailable, but Sephiroth and his stage will be unlocked immediately for anyone who has purchased the Sephiroth Challenger Pack or the Fighters Pass Vol. 2.
Several issues have been fixed to improve gameplay experience.
NFO
– Modified Yuzu (Portable) (v1.4.1) included thanks to Sineater213
– Open Yuzu in the Yuzu Early Access Folder
– Plug in your controller
– Drag a game into Yuzu
– Start playing
Downloads –

16.5 GB
Torrent –  Click Here  – or – Click Here
MegaUp  – Click Here
Multi-Mirrors  – Click Here
Gdrive – Click Here
OneDrive – Click Here