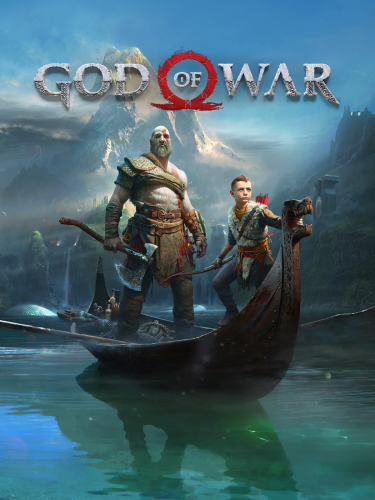 God of War (v1.0.438.9704 / Build 8008283 – Day 1 Patch v1.0.1 + MULTi18) (From 26.2 GB)
Year of release : Jan 14. 2022
Genre: Action / Adventure / RPG
Developer: PlayStation PC LLC
Publisher : Santa Monica Studio
Platform : PC
Publication Type : Repack
Interface language : Russian, English, MULTi18
Voice language: Russian, English, MULTi11
Game version : v1.0.438.9704 / Build 8008283 – Day 1 Patch v1.0.1
Tablet: sewn in (FAiRLiGHT / CODEX / Goldberg / ALI213)
SYSTEM REQUIREMENTS:
Minimum system requirements:
– Requires 64-bit processor and operating system
– OS: Windows 10
– Intel i5-2500k (4 core 3.3 GHz) / AMD Ryzen 3 1200 (4 core 3.1 GHz)
– RAM: 8 GB RAM
– Video card: NVIDIA GTX 960 (4 GB) / AMD R9 290X (4 GB), DirectX 11
– Optional: Requires DirectX feature level 11_1
– Disk space: 65 GB
Description
Enter the Norse realm
His vengeance against the Gods of Olympus years behind him, Kratos now lives as a man in the realm of Norse Gods and monsters. It is in this harsh, unforgiving world that he must fight to survive… and teach his son to do the same.
Grasp a second chance
Kratos is a father again. As mentor and protector to Atreus, a son determined to earn his respect, he is forced to deal with and control the rage that has long defined him while out in a very dangerous world with his son.
Journey to a dark, elemental world of fearsome creatures
From the marble and columns of ornate Olympus to the gritty forests, mountains and caves of pre-Viking Norse lore, this is a distinctly new realm with its own pantheon of creatures, monsters and gods.
Engage in visceral, physical combat
With an over the shoulder camera that brings the player closer to the action than ever before, fights in God of War™ mirror the pantheon of Norse creatures Kratos will face: grand, gritty and grueling. A new main weapon and new abilities retain the defining spirit of the God of War series while presenting a vision of conflict that forges new ground in the genre.
PC FEATURES
High Fidelity Graphics
Striking visuals enhanced on PC. Enjoy true 4K resolution, on supported devices, [MU1] with unlocked framerates for peak performance. Dial in your settings via a wide range of graphical presets and options including higher resolution shadows, improved screen space reflections, the addition of GTAO and SSDO, and much more.
NVIDIA® DLSS and Reflex Support
Quality meets performance. Harness the AI power of NVIDIA Deep Learning Super Sampling (DLSS) to boost frame rates and generate beautiful, sharp images on select Nvidia GPUs. Utilize NVIDIA Reflex low latency technology allowing you to react quicker and hit harder combos with the responsive gameplay you crave on GeForce GPUs.
Controls Customization
Play your way. With support for the DUALSHOCK®4 and DUALSENSE® wireless controllers, a wide range of other gamepads, and fully customizable bindings for mouse and keyboard, you have the power to fine-tune every action to match your playstyle.
Ultra-wide Support
Immerse yourself like never before. Journey through the Norse realms taking in breathtaking vistas in panoramic widescreen. With 21:9 ultra-widescreen support, God of War™ presents a cinema quality experience that further expands the original seamless theatrical vision.
How to install
1- Run the installer as administrator
2- Click on the page
3- Press the up arrow on your keyboard
4- Click Install
5- Click Continue
6- Select installation destination
7- Click Next
8- Select a component
9- Install
Day 1 Patch) v1.0.1 changes
– Fixed an issue that could cause performance degradations after prolonged play sessions
– Fixed an HDR issue that could cause scenes to be too dark
– Fixed a few issues that were causing sporadic crashes
Repack Features
Based on
– God_of_War-FLT: flt-god_of_war.iso
– God of War_Update_Day_1_build_8008283, cracked EXE and FLT emulator, THX TO RUI
– Alternative CODEX/ALI213/Goldberg emulators are available after install in  _CRACKS folder THX TO onetimer23
– Tested on Win 10 & Win 11 , Works Perfect
Game Version v1.0.438.9704 / Build 8008283 – Day 1 Patch v1.0.1
Language : MULTi18
– Audio: MULTi11
– Language can be changed in game settings
Selective Download Feature : you can skip downloading and installing Language audios you don't need
Repack Size : From 26.2 GB
Final Size : 65 GB
Lossless repack , Nothing removed OR re-encoded
Install Time : 5 – 15  mins (based on your PC and items selected)
Credits : Razor12911 for XTool library
Greetings : ElAmigos, KaOsKrew, FitGirl, Masquerade
Repack By DODI
PLZ SEED , DONT HIT & RUN
Downloads (From 26.2 GB Repack)
Torrent – Click Here – or – Click Here
krakenfiles (2 GB)- Click Here
HexUpload (2 GB) – Click Here
MegaUp (2 GB)- Click Here
Gdrive (2 GB) – Click Here
OneDrive (2 GB)- Click Here
Gdrive (500 MB) – Click Here
OneDrive (500 MB)- Click Here
ZippyShare (500 MB)- Click Here
Please Consider Donate if possible
---
Updates & Fixes
Windows 7 / 8 Fix (copy to game folder and run GoW-Win7.exe. You need to have Vulkan-enabled GPU drivers installed ) – Click Here

Update 2 + All EMU + Cracked EXE

– Click Here
Update 3 (v1.0.3) + All EMU + Cracked EXE –  (you must apply update 2 first) –  Click Here
Fix For Crashes in changing languages or not have audio:

go to

God of War\exec\languages\LANGS_GOWA08000.txt contains the selectable languages. You delete the lines you don't have audiofiles for to remove them from being available ingame, preventing the game from attempting to load them and crashing. Don't change the numbers, only delete lines.
---
Downloads (No Install – Download and play)
No Install – Download and play – 61.5 GB – (ENG / RUS) – Thanks to mrrvg –  Torrent – Click Here
God of War All Language Packs – Torrent – Click Here