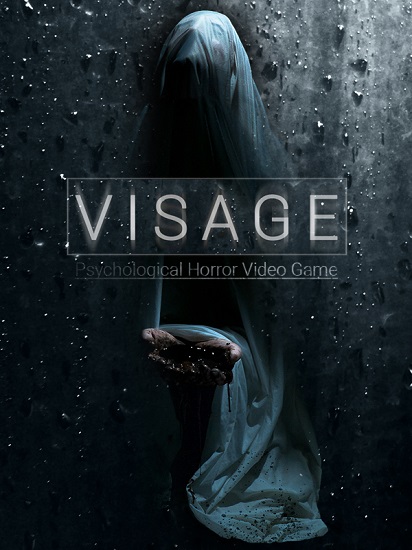 Release Date : October 30, 2020
Genre: Action | Adventure | Horror | Simulation
Developer: SadSquare Studio
Publisher : SadSquare Studio
Platform : PC
Publication type : RePack
Interface language : Russian, English, MULTi21
Voice Language: English
Version : v3.0
Tablet: present (CODEX)
SYSTEM REQUIREMENTS:
OS: WINDOWS® 7, 8, 8.1, 10
Processor: Intel® Core ™ i3 or AMD Ryzen ™ 3
RAM: 6 GB of RAM
Video card: NVIDIA® GeForce® GTX 950 or AMD Radeon ™ R7 370
DirectX: Version 10
Disk space: 16 GB
GAME DESCRIPTION:
Visage is a first-person psychological thriller.
Explore a mysterious, ever-changing mansion in an atmospheric gaming world where time flows slowly, and incredibly cozy interiors are replaced by monstrously realistic scenes that bring genuine horror.
The game takes place in a huge mansion where terrible events once took place. You have to wander through gloomy corridors, exploring every abandoned room and getting lost in endless labyrinths, where frightening memories and ghosts of those who lived and died here are hidden. A strange distorted world, where the only living being is you, will reveal incomprehensible secrets to you, which are even scary to think about.
Game features
Plot
The history of this house is overshadowed by monstrous crimes. The people who lived in it killed their relatives, went crazy, committed suicide and other horrible things. Each room has its own story, written on invisible tablets. In the course of the game you have to relive some episodes of the dark past, any of which can terrify and deprive you of peace for a long time. Soon you will envy the dead, for whom the underworld has become a deliverance from the nightmare, for even death itself will not help you escape from here. Which path will you choose – run away or try to find the truth hidden under the cover of shadows?
Dark entities
The ghosts of people who died in this house will appear to you. They will sneak on your heels, follow you from every corner, try to influence your consciousness – or even attack you. Why are they following you? What have you done? Only you can figure it out.
Game process
In the Visage game, you are defenseless; there is no such weapon that could save you from the creepy creatures that lurk around every corner, behind every door, or jump right out from under your feet. You will be able to collect key items, interact with the environment, and seek out things that will either help you escape from this nightmare … or draw you deeper into it.
Death is part of this game. You must get rid of fear by all means, because fear attracts dark entities. Try to keep your psyche as healthy as possible if you don't want to join the ranks of the dead. It will not be easy, and you yourself will have to find ways to help you not go crazy, for example, stay in the light longer.
How to install
1- Run the installer as administrator
2- Click on page
3- Press the up arrow on your keyboard
4- Click Install
5- Click Continue
6- Select installation destination
7- Click Next
8- Select component
9- Install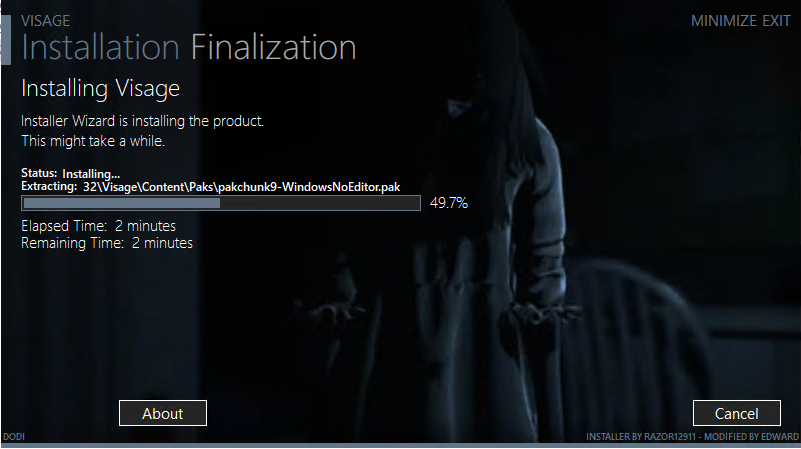 Repack Features

Based on Visage-CODEX Iso Release: codex-visage.iso (14.9 GB)
Game Version : v3.0
Both 32 bit and 64 bit versions included
Language : MULTi21
Language can be changed in game settings menu
Repack Size : 4.8 GB
Final Size : 16 GB
NOTHING is cut, NOTHING is recoded
Installation time 3 – 5 mins
Repack by DODI
PLZ SEED , DONT HIT & RUN
Download Mirrors
Torrent – Click Here 
MegaUp  –  Click Here
Gdrive – Click Here
OneDrive  – Click Here
Parnex OneDrive – Same as Torrent – Click Here