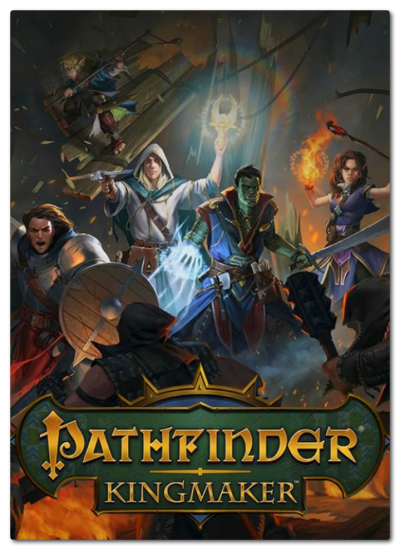 Year of release : 25 Sep. 2018
Genre: Adventure / RPG / Isometric / 3D
Developer: Owlcat Games
Publisher : Deep Silver
Platform : PC
Publication type : RePack
Interface language : Russian / English / MULTi5
Voice Language: English
Game version : v.2.1.0h
Tablet: Present (CODEX)
SYSTEM REQUIREMENTS:
Minimum system requirements:
– Requires 64-bit processor and operating system
– Operating system: Windows 7 64-bit or newer
– Processor: Intel Celeron 1037U @ 1.80GHz
– RAM: 4 GB of RAM
– Video card: Intel HD Graphics 3000
– Disk space: 39 GB
– Sound Card: DirectX Compatible Sound Card

GAME DESCRIPTION:
Owlcat Games is proud to present the first isometric PC RPG set in the beloved Pathfinder board game universe. It was created with the support of 18,000 Kickstarter users and with contributions from narrative designer Chris Avellone and composer Aynon Zur. In Pathfinder: Kingmaker, you play as a brave adventurer, whose goal is to survive in a world engulfed in magic and evil! Choose the role of a brave warrior who takes off the heads of enemies with an enchanted sword, a powerful wizard in whose blood the magical blood of demons flows, a wise priest who worships magnanimous or evil gods, a cunning thief who cleverly avoids even the most insidious traps, and countless other heroes. The only thing that limits you is your imagination!
The RPG Pathfinder is an evolution of the rules edition of 3.5 of the oldest board RPG game, backed by feedback from tens of thousands of players like you. Whether you're a newcomer to the Pathfinder® universe or a seasoned veteran, one thing is constant: Kingmaker® is the PC RPG you've been waiting for.
Pathfinder's game is deep not only with its thoughtful world and story, but also with its game mechanics and the freedom it provides for your unique character. You can choose your character from the widest range of classes, including archetypes, provide him with powerful mystical and divine spells, give him a variety of class abilities, abilities, skills and endow him with various traits. Pathfinder allows you to create heroes (or villains) that best suit their individual playstyle and personality.
Game features
• History
To the north lies the Stolen Lands, a region that has been fought over for centuries. Hundreds of kingdoms were born and died in these lands, and now it's time to leave your mark here – and create your own kingdom! To do this, you will have to survive in a harsh environment and eliminate the threat from competitors … and also inside your own backyard.
Pathfinder: Kingmaker is based on one of the most popular Adventure Paths of the same name. You don't need to know her story in advance, but if you know her, you will meet familiar and beloved characters, as well as many new companions, allies, plot twists and threats that greatly expand and enrich the original plot. With the support of Paizo and the publisher's authors, writer Chris Avellone and the Owlcat team have expanded the storyline and reworked quests to make the already exciting adventure in the Stolen Lands even more interesting.
Even though Pathfinder: Kingmaker is a single-player game, you won't be alone in your adventure. Kingmaker features a wide variety of companions and NPCs, including a set from the original Pathfinder. You will have to decide who to trust and whom to watch with caution, as each companion has their own goals and their own worldview, which may differ from yours. Your adventure will become their adventure, and through your decisions you will influence their fate not only in the present, but also in the future.
• Your kingdom
We chose the Kingmaker Adventure Trail because of the many open world mechanics that allow players to create their own story as they explore the Stolen Lands, challenging them as explorers and rulers. More importantly, the game allows you to claim these lands as your own and create your own kingdom in the wild wasteland. The game is still based on the classic principle of "exploration of dungeons", but diplomacy, politics and the development of the kingdom also play a significant role here. Choose your allies wisely and keep them close to you as you explore ancient tombs and ruins, as well as engage in politics in your court.
As you will understand for yourself, creating a kingdom is not just about building a citadel. Your kingdom is a reflection of your character and your choices made during the game. It is like a living being, and it constantly changes depending on your worldview, your allies and your ability to lead. As you expand your kingdom, build new cities and establish new settlements, your capital city will physically change depending on decisions, policies, and even who you alliance with. As your kingdom grows, different factions and neighboring countries will seek your favor – and your strength will also be tested.
Explore, conquer, rule!


How to install
1- Run the installer as administrator
2- Click on page
3- Press the up arrow on your keyboard
4- Click Install
5- Click Continue
6- Select installation destination
7- Click Next
8- Select component
9- Install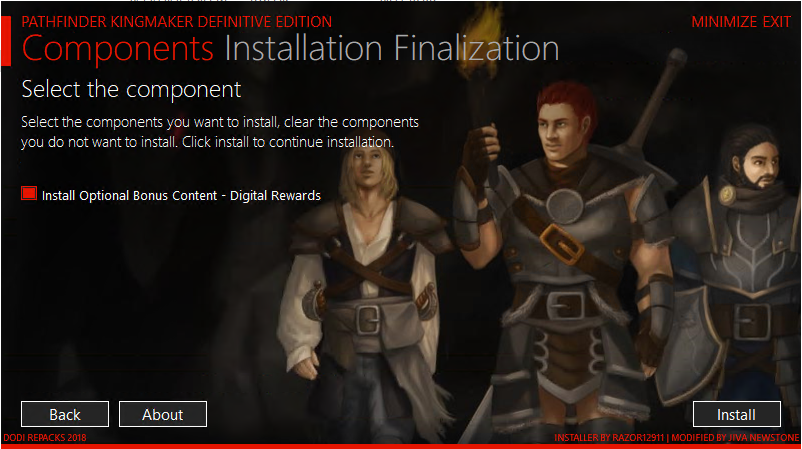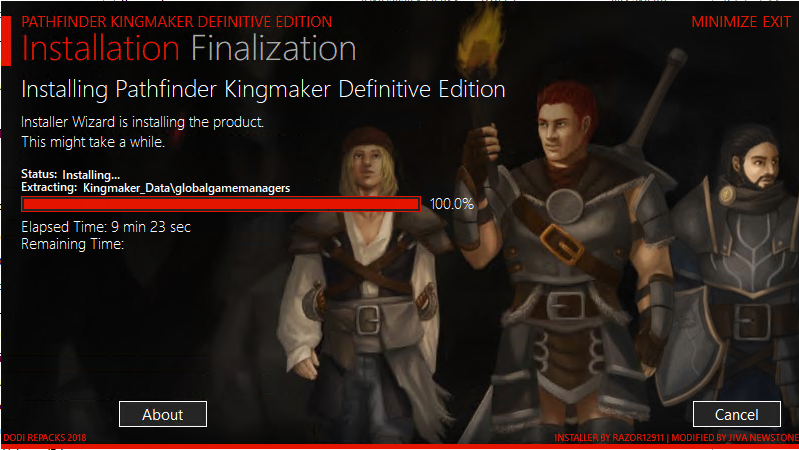 Repack Features

Based on Pathfinder Kingmaker Definitive Edition-CODEX iso release: codex-pathfinder.kingmaker.definitive.edition.iso (29.6 GB)
Game version: v.2.1.0h
DLCs
900440 = Pathfinder: Kingmaker – Pre-order Bonus
900441 = Pathfinder: Kingmaker – Premium Digital Copy
900442 = Pathfinder: Kingmaker – Artbook
900443 = Pathfinder: Kingmaker – In-game player's portraits
900444 = Pathfinder: Kingmaker – Chris Avellone Adventure Module
900445 = Pathfinder: Kingmaker – Map of Stolen Lands
900446 = Pathfinder: Kingmaker – In-Game Pet – Red Panda
900447 = Pathfinder: Kingmaker – The Wildcards
900448 = Pathfinder: Kingmaker – Varnhold's Lot
900449 = Pathfinder: Kingmaker – Beneath the Stolen Lands
937800 = Pathfinder: Kingmaker – Season Pass
965950 = Pathfinder: Kingmaker – Bloody Mess
1041820 = Pathfinder: Kingmaker – Arcane Unleashed
Pathfinder: Kingmaker – Pawns (.pdf)
Pathfinder: Kingmaker – Artbook (.pdf)
Pathfinder: Kingmaker – The Puzzle Box (.pdf)
Pathfinder: Kingmaker – Map of Stolen Lands (.jpg)
Pathfinder: Kingmaker – Original Soundtrack (.mp3)
Languages : Russian, English, German, French, Simplified Chinese
Audio: English
Change language in game settings
Selective Download Feature: You can skip downloading and installing Digital Rewards
Repack Size : From 15.4 GB
Final Size : 39 GB
NOTHING is cut, NOTHING is recoded
Installation time 10 – 15  minutes (Based on your PC)
Repack by DODI
Please Seed, Don't Hit & Run
Download Mirrors
Torrent – Click Here
Mirrors – Click Here
Gdrive – Click Here