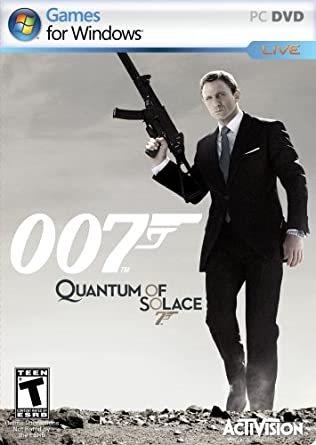 Year : 2008
Genre: Action / FPS (First-Person Shooter)
Developer: Treyarch
Publisher: Activision
Interface language: English
Voice language: English
Tablet: sewn
System requirements:
Operating system : Microsoft (R) Windows (R) XP / VISTA/7/8/10
Processor : Pentium (R) 4 2.4GHz or Athlon XP (TM) 64 2800+ MHz or any 1.8Ghz Dual Core
Video card : GeForce 6600 128MB or similar to Radeon 9800Pro or better
Memory : 1GB of RAM
8GB hard disk space
DirectX Version : 9.0s
Description:
No spy has yet surpassed the legendary James Bond in skill and charm. Her Majesty's agent solves the most difficult tasks. In a perfectly ironed tuxedo and with a radiant smile, he uncovers conspiracies on a global scale, stops cunning plans and embarks on the most incredible scams. Desperate gunfights, fast-paced pursuits, secret sabotage that will take your breath away – with the help of Quantum of Solace you will personally reveal all sides of the espionage life!
Now you have a unique chance to become the James Bond of the XXI century. The appearance and physique of the hero are exactly recreated in the image of Daniel Craig. You will find yourself in the middle of two films at once. Familiar episodes and new moments from "Casino Royale" and "Quantum of Solace" convey the corporate atmosphere and style of stories about the agent "007". Immerse yourself in an exciting world of deceit, intrigue, betrayal, insanely expensive cars and seductive girlfriends with the help of incredibly realistic graphics and sound. Time to try on a tuxedo!
Repack Features
Based on Prophet Release
Repack Size : 3.8 GB
Final Size : 8 GB
Lossless repack , Nothing removed OR re-encoded
Install Time : 15 – 17 mins ( friendly install but long time )
Repack By DODI
PLZ SEED , DONT HIT & RUN
Download Mirrors
Torrent – Click Here – or – Click Here
Mirrors – Click Here
Gdrive – Click Here