Year : Mar 1 2019
Genre: Action / Fighting
Developer: KOEI TECMO GAMES CO., LTD.
Publisher : KOEI TECMO GAMES CO., LTD.
Platform : PC
Publication Type : RePack
Interface language : Russian / English / MULTi10
Voice Language: English / Japanese
Version : v1.20
Tablet: Present (CODEX)
SYSTEM REQUIREMENTS:
Minimum system requirements:
– Requires a 64-bit processor and operating system
– OS: Windows 7 (64bit)
– Processor: Intel Core i5-4690 or over
– RAM: 8 GB RAM
– Video Card: NVIDIA GeForce GTX 770
– DirectX: Version 11
– Network: Broadband Internet Connection
– Disk space: 55 GB
– Sound Card: DirectX 11 or over
GAME DESCRIPTION:
Dead or Alive 6 – is the latest spectacular three-dimensional fighting game with fast and exciting battles. This game is developed by Koei Tecmo Games, it has amazing graphics, it allows spectacular and fun to fight in multi-level arenas.
Game features
• Introduction to the DOA Series
DEAD OR ALIVE is a series of AAA class fighting games developed by Team NINJA, owned by Koei Tecmo Games. The beginning of a series of fast three-dimensional fighting games was laid by the first DEAD OR ALIVE, which appeared on arcade machines in 1996. Franchise games are now being released on various systems and arcade machines around the world. In DEAD OR ALIVE 6, the game world has become more colorful than before, and improved graphics and an updated combat system take this game to a new level.
• Plot
The game continues the story told in DEAD OR ALIVE 5. The emphasis is on 2 main areas of the plot, namely the battle between the "ninja and DOATEC" with "MIST led by Donovan" and the events taking place during the sixth DEAD OR ALIVE tournament. For characters from previous games, new personal episodes will also be added.
• New graphics
Thanks to the new graphics engine, DOA 6 takes the visual component of fighting games to a whole new level. Charmingly beautiful and at the same time realistic graphics allow you to display improved facial expressions, as well as effects such as sweat and dirt on character models and realistic reaction to strokes.
• System "Triangle"
By tradition, battles in DEAD OR ALIVE 6 are based on the Triangle system: strikes are stronger than throws, throws are stronger than grabs, grabs are stronger than strokes. If you choose the right attack, the type of which "beats" the opponent's attack (for example, to hit when the opponent tries to throw), you will have a strong counterattack and do more damage.
• New combat mechanics "Breakthrough System"
In the sixth part of the DEAD OR ALIVE series, we decided to introduce a new system of special skill scales (breakout scale), which will add a new strategy element to the battles. This mechanics is quite simple and accessible even to beginners of the fighting world. To activate it, just press the [RB] button.
• Breakthrough kick
A powerful special technique that knocks down opponents and inflicts heavy damage. The first part of the technique also blocks the opponent's attacks, which allows him to be used for attack and defense!
• Breakthrough capture
Convenient protection technique that can be used even in a state of extreme stunning. It does little damage, so it should be used only as a last resort.
• Fatal pressure
Powerful combo with spectacular finishing, activated by successive presses of the [RB] button. Even beginners can easily use it, while more experienced fighters will find that this technique can be used in different ways.
• Brawl
If you push the opponent at the audience, they will push him back to the center of the arena. This trap combines the atmosphere of a real street fight with a new strategic element.
• Massive defeat
If you push an opponent to the boxes or barrels with a "breakthrough strike" or "fatal pressure", this will trigger a chain reaction and cause a powerful explosion, causing tremendous damage.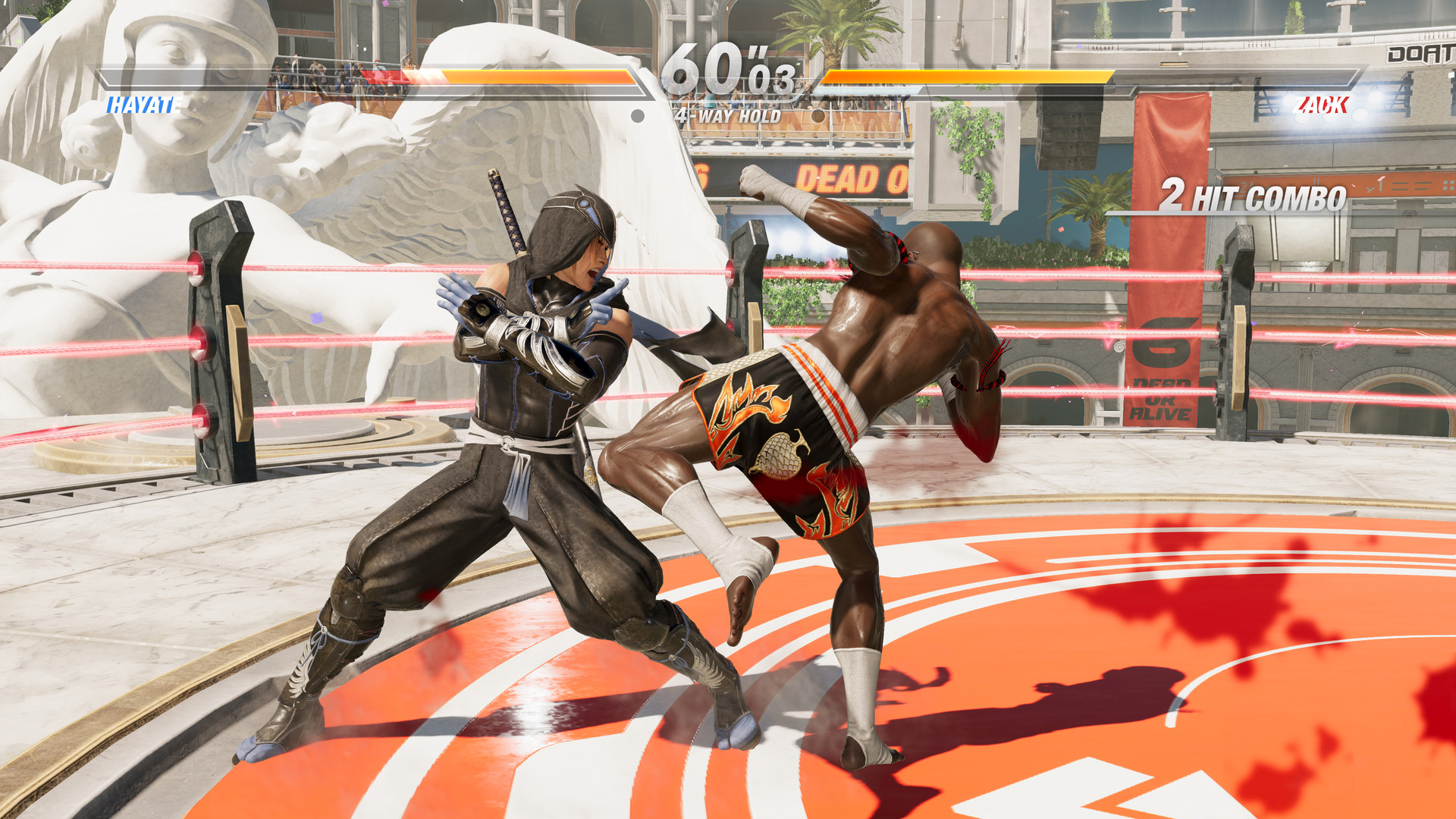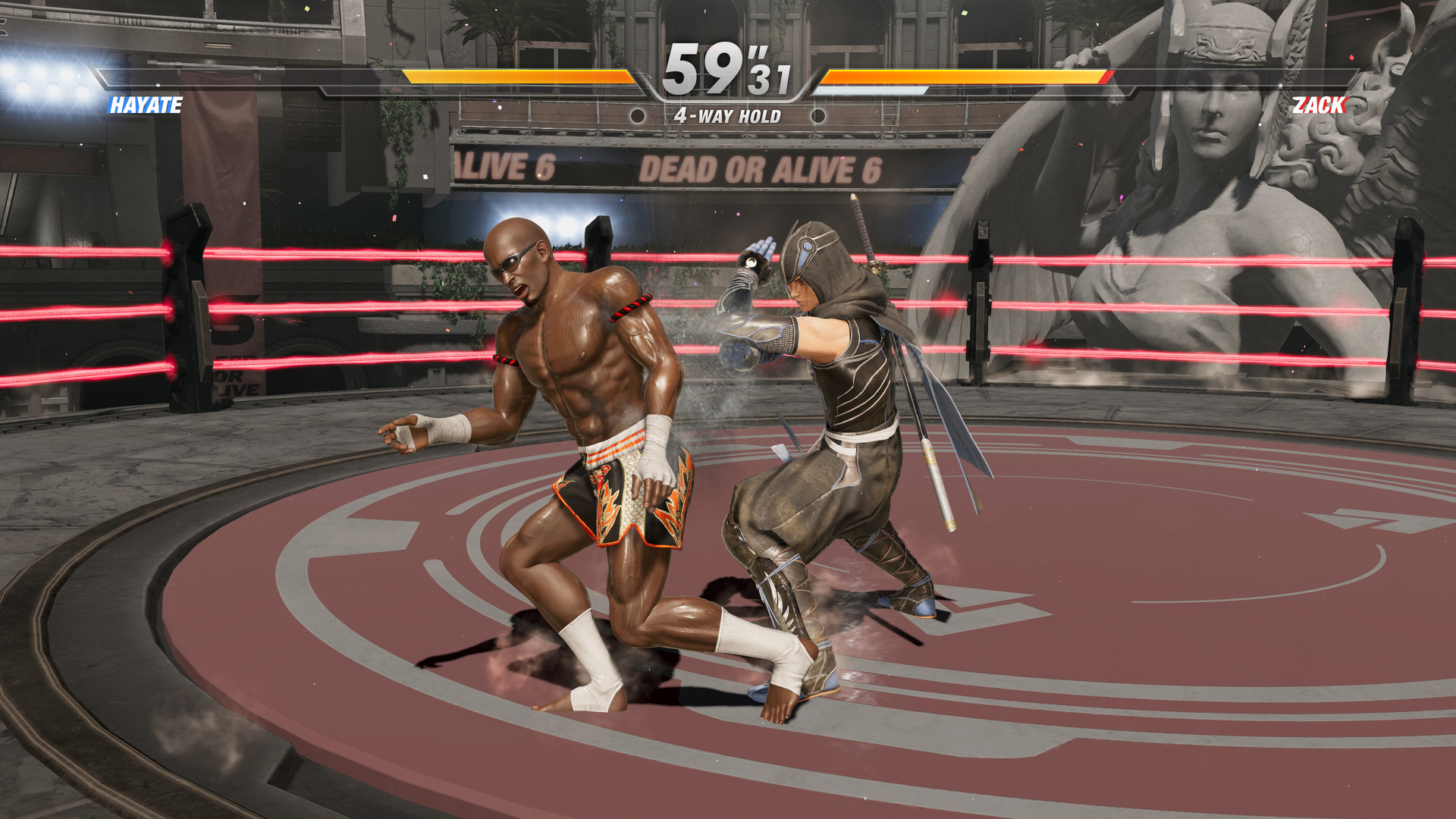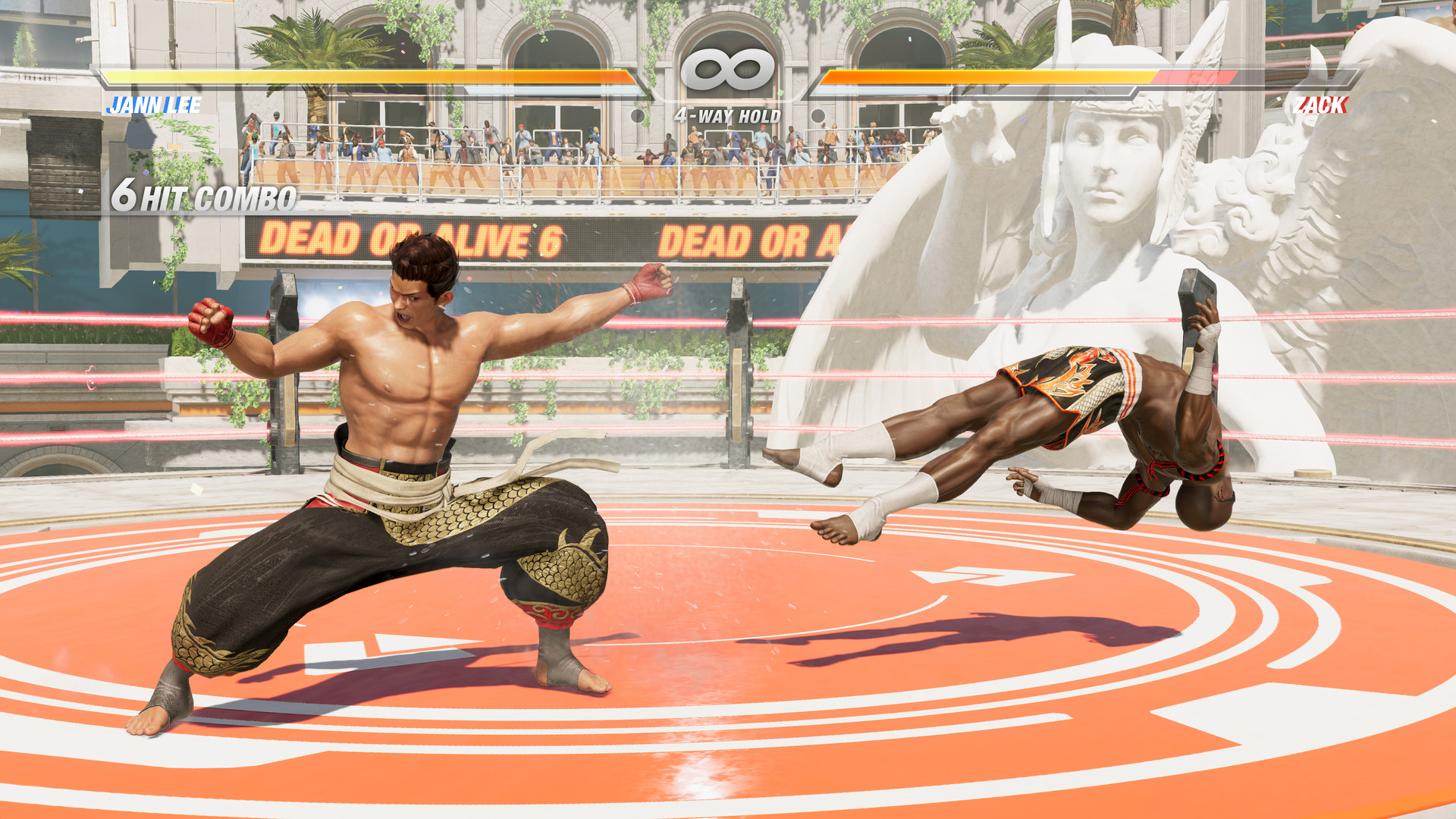 How to install
1- Run the installer as administrator
2- Click on the page
3- Press the up arrow on the keyboard
4- Click Install
5- Click Continue
6- Select installation destination
7- Click Next
8- Select a component
9- Install
DLCs
1033460 = DOA6 Character: Ayane
1033470 = DOA6 Character: Tina
1033471 = DOA6 Character: Leifang
1033472 = DOA6 Character: Helena
1033473 = DOA6 Character: Christie
1033474 = DOA6 Character: Kokoro
1033475 = DOA6 Character: La Mariposa
1033476 = DOA6 Character: Mila
1033477 = DOA6 Character: Marie Rose
1033478 = DOA6 Character: Honoka
1033479 = DOA6 Character: NiCO
1033480 = DOA6 Character: Hayabusa
1033481 = DOA6 Character: Hayate
1033482 = DOA6 Character: Jann Lee
1033483 = DOA6 Character: Zack
1033484 = DOA6 Character: Bayman
1033485 = DOA6 Character: Brad Wong
1033486 = DOA6 Character: Eliot
1033487 = DOA6 Character: Rig
1033488 = DOA6 Character: Raidou
1033489 = DOA6 Character 20 Set
1033490 = DOA6 Season Pass 1
1033491 = DOA6 Season Pass 1 Bonus Costume: NiCO
1033492 = DOA6 Season Pass 1 Bonus Costume: Nyotengu
1034470 = DOA6 Story Unlock Key
1034471 = DOA6 Character: Nyotengu
1034480 = DOA6 Character: Phase4
1034481 = DOA6 Early Purchase Bonus Costume – Kasumi
1034482 = DOA6 Digital Deluxe Edition Bonus Costume – Kasumi
1034483 = DOA6 Deluxe BGM (3 tracks)
1034484 = DOA6 Deluxe Costume Set
1042850 = DOA6 Happy Wedding Costume Vol. 1 Set
1042851 = DOA6 Happy Wedding Costume Vol.2 Set
1048380 = DEAD OR ALIVE 6: Core Fighters – Male Fighters Set
1048381 = DEAD OR ALIVE 6: Core Fighters – Female Fighters Set
1054330 = DEAD OR ALIVE 6 – Full Game
1058120 = DOA6 Pirates of the 7 Seas Costumes Vol. 1 Set
1058121 = DOA6 Pirates of the 7 Seas Costumes Vol. 2 Set
1074260 = DOA6 Character: Mai Shiranui
1074261 = DOA6 Character: Happy Wedding Costume – Mai Shiranui
1074262 = DOA6 Character: Pirates of the 7 Seas Costume – Mai Shiranui
1074263 = DOA6 Character: Nurse Costume – Mai Shiranui
1074264 = DOA6 Character: Maid Costume – Mai Shiranui
1074265 = DOA6 Character: Bunny Costume – Mai Shiranui
1074266 = DOA6 Mai Shiranui Debut Costume Set
1074267 = DOA6 Mai Shiranui + Debut Costume Set
1074270 = DOA6 Character: Kula Diamond
1074271 = DOA6 Character: Happy Wedding Costume – Kula Diamond
1074272 = DOA6 Character: Pirates of the 7 Seas Costume – Kula Diamond
1074273 = DOA6 Character: Nurse Costume – Kula Diamond
1074274 = DOA6 Character: Maid Costume – Kula Diamond
1074275 = DOA6 Character: Bunny Costume – Kula Diamond
1074276 = DOA6 Kula Diamond Debut Costume Set
1074277 = DOA6 Kula Diamond + Debut Costume Set
1092291 = DOA6 THE KING OF FIGHTERS XIV Mashup Content Set
1111440 = DOA6 Season Pass 2
1111441 = DOA6 Marie Rose: "Little" Devil Maid Costume
1111442 = DOA6 Honoka: Makeover School Uniform Costume
1111518 = DOA6 Seaside Eden Costume Set
1111530 = DOA6 Vacation to Paradise BGM Set
1120025 = DOA6 Summer Breeze Collection Set
1134387 = DOA6 Character Momiji + Debut Costume Set
1134432 = DOA6 Morphing Ninja Costume Set
1159329 = DOA6 Sexy Bunny Costume Set
1168500 = DOA6 Season Pass 3
1168501 = DOA6 Season Pass 3 Bonus Costume – Kasumi
1168502 = DOA6 Season Pass 3 Bonus Costume – Ayane
1168526 = DOA6 Witch Party Costume Set
1169726 = [Revival] DOA6 Hot Summer Costume Set
1179656 = DOA6 Energy Up! Training wear set
1187328 = [Revival] DOA6 Santa's Helper Costume Set
1195167 = DOA6 Character Rachel + Debut Costume Set
1195216 = DOA6 Santa Bikini Set
1205760 = DOA6 Season Pass 4
1205761 = DOA6 Gorgeous Dress – Kasumi
1205762 = DOA6 Gorgeous Dress – Marie Rose
1205810 = DOA6 "Nova" Sci-Fi Body Suit Set
1205887 = [Revival] DOA6 Maid Costume Set
1212817 = [Revival] DOA6 Alluring Mandarin Dress Set
1224764 = DOA6 Gust Mashup + Atelier Ryza Mashup Costumes
Repack Features

Based on DEAD OR ALIVE 6 v1.20-CODEX iso release: codex-dead.or.alive.6.v1.20.iso (40.4 GB)
Game vsrsion : v1.20
All DLCs included
Languages: MULTi10
Audio: English – Japanese
Language can be changed in game settings
(in the steam_emu.ini file change the line Language = english to Language = ……)
Repack Size : 17.6 GB
Final Size : 54 GB
Lossless repack , Nothing removed OR re-encoded
Install Time : 10 – 25 mins
Repack By DODI
PLZ SEED , DONT HIT & RUN
Download Links
Torrent – Click Here – or – Click Here
Direct Links – Click Here
OneDrive – Click Here